Prep School
An uncharacteristically beautiful, warm West Buckland (known for the cold wind that blows across the hill) welcomed both the U11 girls and boys to play in some mini hockey and rugby festivals last Saturday. Both teams put in improved performances from last Wednesday, with the boys all thoroughly enjoying the experience and also gaining a couple of wins! The girls showed an increased intensity and were really unlucky not to win both of their games. Thanks to West Buckland for the opportunity.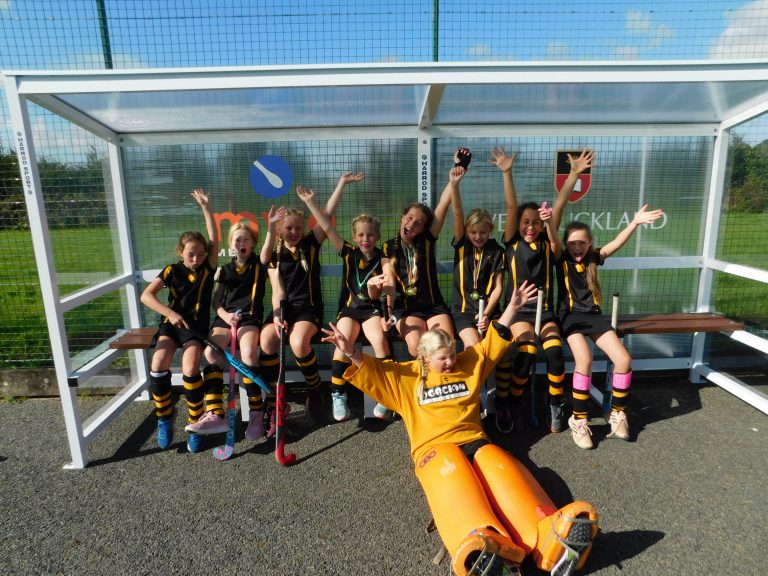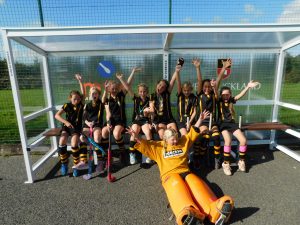 Monday, saw all of our Year 3 and 4 out playing in their first matches against Wells. All the boys and girls were full of excitement, and it was truly fabulous to see their enthusiasm, (be it a little tricky to contain this excitement getting them to the pitches!) Year 4 showed their experience of a year of a major sport and Year 3, despite displaying a ' bees around the honeypot' style of play, learnt a huge amount and showed potential on both the rugby and hockey pitches.
Wednesday saw Wells Cathedral back on the road to us again with their Year 5 and 6. Some 'outstanding' rugby was reported from the U11A match, and some much-improved performances in the U11A and U10A hockey saw all sides win their matches. The U10A boys, playing their first contact did brilliantly and were learning about rucks and mauls. The U11 and 10B hockey worked hard with some fantastic defence and determined efforts from both sides, with the U10B really unlucky not to score.
Great to have the whole school playing in one week! Well done to all, and thank you for coming to watch us! (Hope you enjoyed the tea)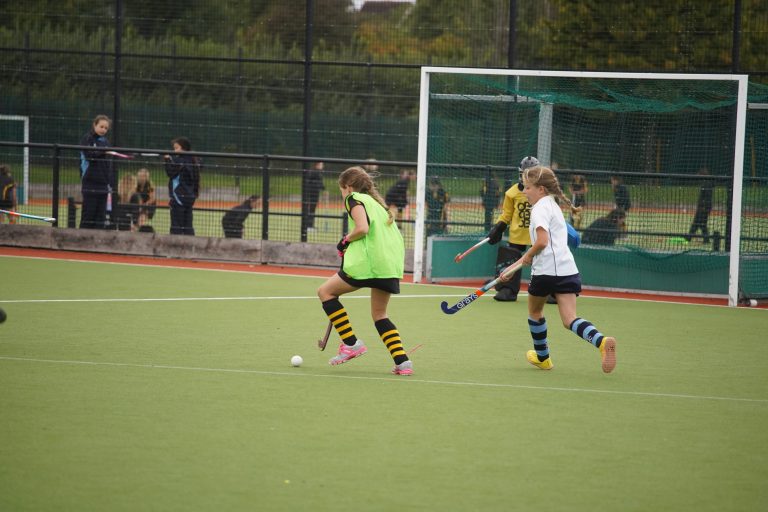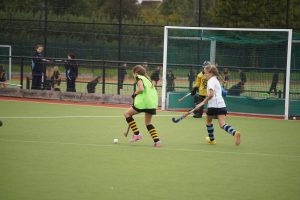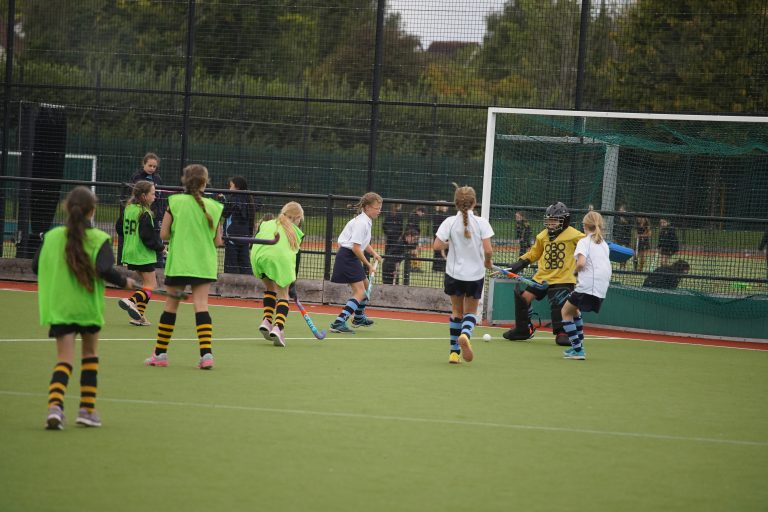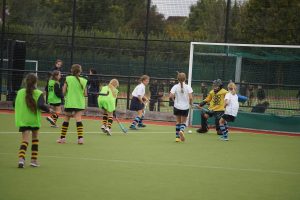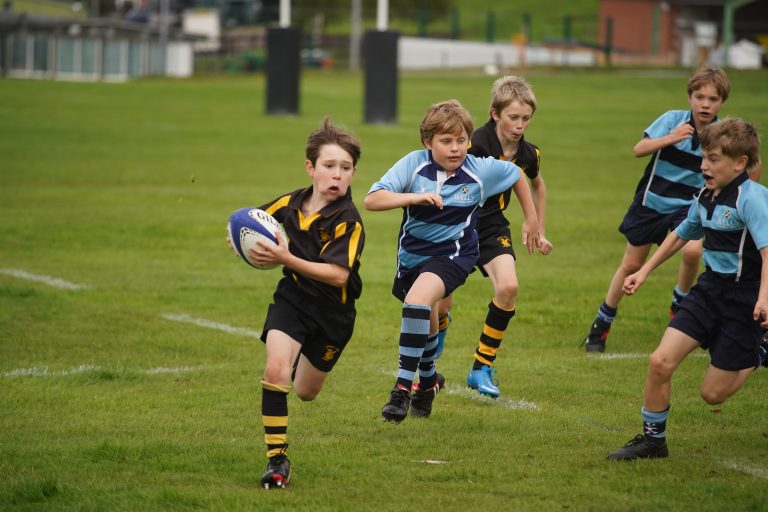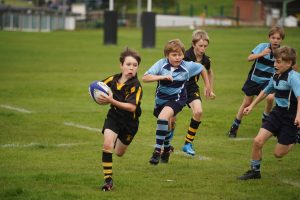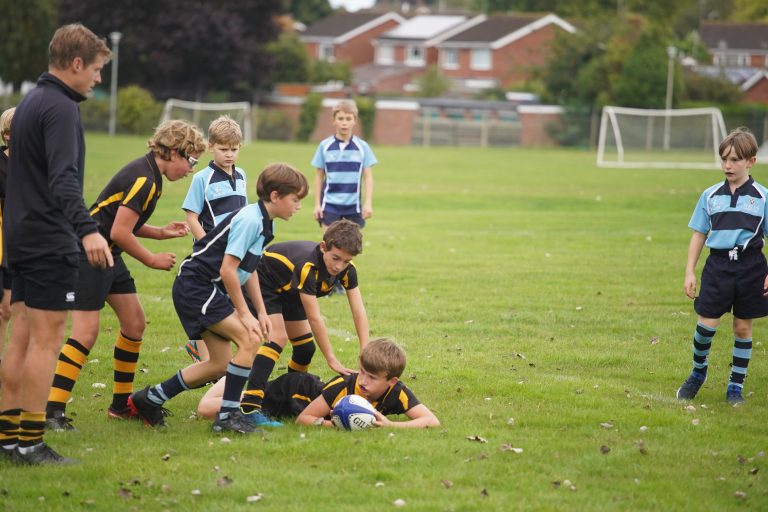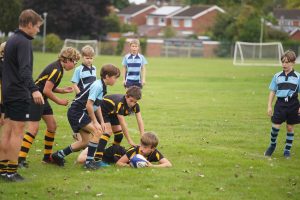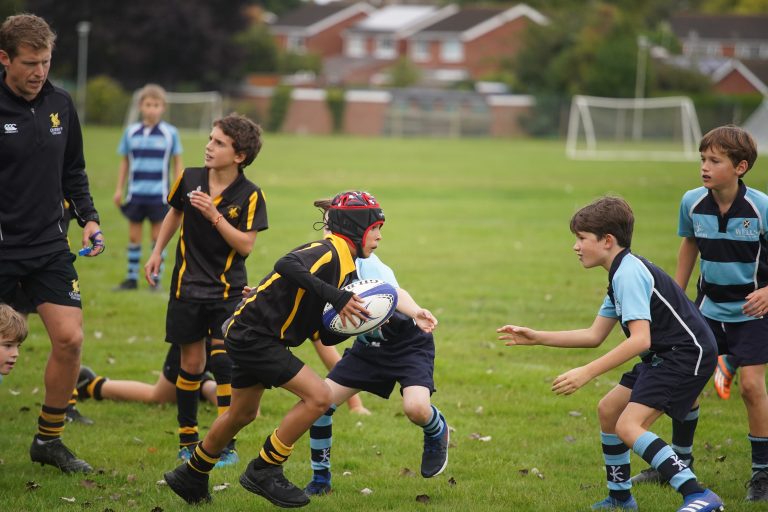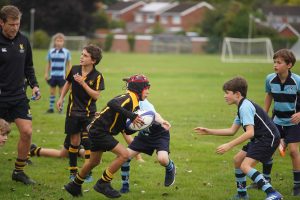 Senior School
Hockey
This weekend saw the girls playing a competitive hockey block against Blundells. Team of the week was clearly the U15A team with a stellar performance in a triangular that also saw them play Bristol Grammar School.
An oddly positive performance for the 1st team despite the 8-0 scoreline. We showed our intensity and aggression and kept Blundells out of our half for vast times on occasion; something we failed to do the previous week vs Wells. Some brilliant combination play down the right hand side really showed Queen's were starting to work well as a team, alongside a flurry of short corners for us in the 2nd half. We had our chances for 2 or 3 goals in this match, alas could not take them on this occasion. We will now play Taunton or Wells in our next plate match, and Plymouth College next weekend.
Recovering from 0-4 down at half time the 2nd XI team did not give up. The 2nd half score was 0-0. Implementing a good defensive strategy around the D and some excellent distribution to the wings we maintained possession and put Blundells under pressure. Some near misses at goal but a great performance by the girls. Natasha Seton was awarded MVP for many excellent saves. Yasmin Fettah gave everything and controlled much of the midfield. She pressured every pass she could and was a huge asset to this team.
The aforementioned team of the week had a brilliant afternoon's hockey. Results were 0-1 v BGS and 1-2 v Blundell's (Blundell's scoring with 15 seconds left on the clock). The results do not tell the full story as this group of girls must be the most improved team at the school. On a hot day they worked tirelessly together as a team to put real pressure on two very accomplished teams. Natasha Jewitt had another fine afternoon in goal behind the redoubtable Isabella Amesbury and Maddie Lloyd centre back combination. Mila Neftel was the model of composure and selfless effort in the middle of the pitch and Alicia Hartland terrorised both of the opposition defences with her pace and tenacity. Holly Downward led the team well and Tabitha Saunders and Chloe Taylor continue to be a reliable and hard working pair of half backs. It was a pleasure to watch them play – well done to the whole squad.
A new U15B team came together for their first fixture of the season including many debutants to hockey as well as to Queen's! The performance was incredible with great tenacity to close down the ball and committing sticks down in tackles. This regularly thwarted persistent attacks from a strong BGS side who beat us 4-0. Then in our second game against Blundells we continued defending with strength and this time committed players ahead of the ball to create more attacking opportunities. One was converted with a great carry and bottom left hand corner shot by Hannah Matthews. It was great to compete with Blundells in a tight game that finished 2-1.
For the U14A team there were great performances from Ellen Leech (GK) and Rebecca Barter, which saw Queen's defend stoutly, particularly in the middle third of the game. Year 8 players Meg Clark and Emily Neenan were excellent additions and gave the team excellent options to play the ball forward. Despite a few good opportunities, Queen's failed to convert and ended up on the losing side but effort across the pitch and progress was brilliant.
Basketball
The basketball 1st team have started the 2022 SW league with two amazing matches.
Their first outstanding performance delivered a very well-earned win for Queens against Taunton School – 33 to 27.
Michael Yip Captained the team, with great on-court leadership help from Bobby Chan.The senior players delivered on court leadership and energetic commitment to play some of our best basketball. Jacky Yip and Schorfield Chan earned a special mention as significant finishers of many scoring drives, but no score comes without the energy and drive of the team players who get the ball to the finishers. Kimi Ng, Colin Ngan & Jason Chan were not only effective movers of the ball, but rising to the challenge laid down by the senior players, they worked hard to not lose the ball that they had, to opposition pressure.
Taunton was in need of halftime, having had to recover from a 21 – 4 explosion of points from Queens, at the 1/3rd point of the match.
Though Taunton put in a determined 3rd quarter, the defensive efforts of the team including developing players, Ernie Shorten & Arthur Guyot meant that every point was extremely hard for them to obtain. Queens advanced their score to 29, before Taunton struck with 3 consecutive 3 point scores to lift themselves from a frustrating 15 points to 24, and delivering a grandstand finish to the last few minutes of the final quarter. By now Chaz Cheung was on court and also giving a maximum effort in the defensive frustrating of Taunton's determined comeback. Both teams gave away penalties in the last minutes, but Queens again showed greater determination and scored our final 4 points, limiting Taunton to just 3 more. Final score 33 – 27 to Queens. The whole squad earned the plaudits for this victory! We have set ourselves much to live up to.
The basketball team's first home match was against Blundells, against whom they battled so hard last season. The match was an extremely close event throughout. Queens led the 1st 1/4 with a series of long-range 3-point baskets that unsettled the planned defence of Blundells. However, Blundells continued to force their way into our scoring zone and were never too far behind our advancing scoreline. The second 1/4 saw Blundells squeeze ahead, and at 1/2 time they led, but only by 3 points.
Bobby Chan and Michael Yip continued to lead the team very well. Bobby's on-court communication supporting, Michael's strategic thinking to great effect. Kimi Ng, had his best game to date, successfully shooting a number of our 3 point scores, and is a welcome new member of this year's squad.
The 3rd 1/4 ended with both teams tied at 31 each and the game was very much in the balance. A lively 4th quarter saw both teams focus very hard on their desire to win, but tired legs in the Queens players allowed Blundells to squeeze ahead, and the final very closely fought result was Blundells 41 to Queens 36.
Rugby
The U15 Boys rugby team continued their winning streak this week. Having previously beaten Plymouth College in a nail-biting 30-32 thriller at the start of term, the boys travelled to Downside School on Tuesday and came away victorious once again. With tries from Caspar (2), Woody, Ali (2), Mo, Alaadin and conversions by Caspar (3) and Will, they claimed a convincing 43-10 win. A great team performance by all.
The u14s had a tough encounter against Downside School on Tuesday. It was a physical match and a few very strong defensive efforts were put in by the boys with a special mention to Oliver Lockington for some outstanding tackling. Unfortunately, the boys were on the losing side but showed great promise with some very fluent attacking passages of play and at times showing great skills when handling the ball. However, they just were not able to turn those promising moments into points but have shown great progress and a lot of positives to take going into the weekend fixtures.