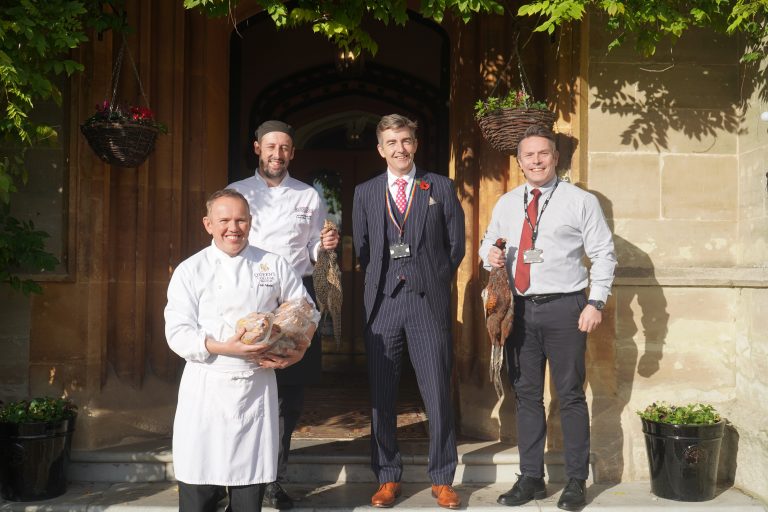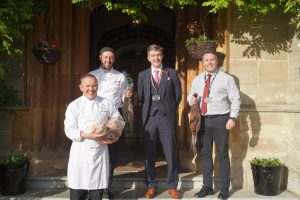 This week is Great British Game Week from 7th to 13th November which is a week-long national celebration of all things game, encouraging people to taste game for the first time and try new products which have local high-quality British game in them.
Queen's was a national 'Best Game Educator' winner last year, being awarded the top school in the UK for promoting the teaching of game preparation and nutrition. This year we have received nearly 100 local fresh pheasant for pupils to not only be taught about the nutritional value and provenance of game in butchery and cooking demonstrations in class but also to have the opportunity to enjoy the same game in their dining hall dishes thanks to our caterers Holroyd Howe. Today Executive Chef, Jordan Bradley, Holroyd Howe General Manager, Nathan Simms and Mr Joe Mann spent time in the dining room with the pupil explaining where their food had come from and how it had been prepared.
For a second year, Queen's College has partnered with award-winning West Country game supplier M C Kelly a trusted family fine food supplier of over 65 years experience to supply our South West game.
"Great British Game Week is a fantastic opportunity to really show off the very best of what the South West's natural larder has to offer", said our Head of Food, Mr. Mann, "game is an astonishingly versatile ingredient and I am so glad that we have been able to take a whole school approach to champion game this year at Queen's with the support of Holroyd Howe,"
Holroyd Howe Executive Chef, Jordan Bradley welcomed the chance to, "serve dishes in the dining hall this week that will really showcase the wonderful depth of flavour that game has to offer". Holroyd Howe General Manager, Nathan Simms added that "the dishes will demonstrate how versatile game is when it comes to putting together seasonal dishes."Head of College, Julian Noad said it was, "a fantastic opportunity to draw attention to all the wonderful ingredients that can be found around us, and the people in our wider community who so passionately bring them to our tables".