Two of our top performers in today's A Level results were Molly Kelly and Rohan Fidell, who both achieved four A* grades.
Molly, who was also Head Girl, is going to the University of Edinburgh to study Medicine while Rohan will take Natural Sciences at Lancaster University. Molly said she was "over the moon" with her results and thanked all of the teachers. "I would not have got in without their help – particularly in taking Biology in only one year."
Rohan said he was "a bit overwhelmed" and that his results hadn't really sunk in yet. "I'm very proud and also thankful to the school for providing such a great education, particularly during lockdown."
Another student achieving four A* grades was Yvonne Guo, who is going on to study Economics at King's College, London.
Other international students also achieved some great results. Sophia Hao recorded three A* grades and an A and will be studying Business and Marketing at Edinburgh while Lewis Yu and Samuel Li both achieved three A* grades. Lewis is off to the Chinese University of Hong Kong to study Quantitative Finance while Samuel is taking Mathematical & Physical Sciences at the University of Toronto.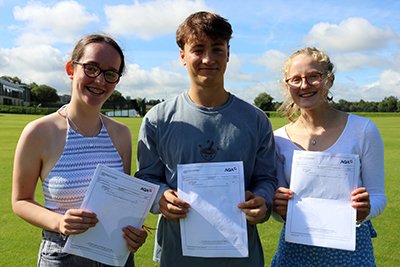 Three of our students are eventually hoping to become doctors after their results. Lauren Lowe and Tom Hopwood will both be studying Medicine at the University of Sheffield while Molly Kelly is off to Edinburgh. Also aiming for a career in health are Molly Rucklidge, who is going to study Physiotherapy at the University of Liverpool, and Andrew Smith, who is going on to take a Chiropractic degree at the University of South Wales.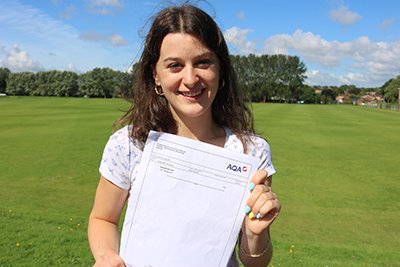 Rosie Wooding paid tribute to our Performing Arts department as she prepared to go to Drama School. Rosie has appeared in various school productions – including the lead role in the recent 'Daisy Pulls It Off' – and also plays the cello. "I really have enjoyed my time at Queen's," she said. "The Performing Arts department have been brilliant and have helped me develop in so many different ways. "I've changed a lot at Queen's and definitely for the better." Rosie is now off to Bristol to take a Certificate of higher Education in Acting and Theatre Making with the Fourth Monkey actor training company.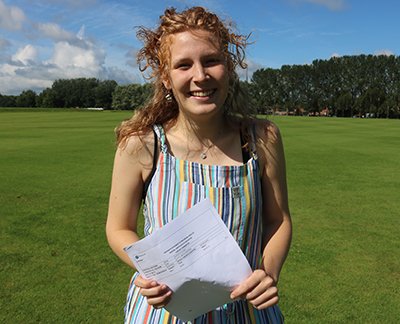 Amélie Lloyd is set for the experience of a lifetime following her A Level results. She is taking a gap year and is off to Korea to volunteer and visit family including setting up a children's choir. "I'm really excited – it's going to be a big adventure." Amélie, who is going to help out at the school where her uncle works, has starred in a number of Queen's productions and performances including taking the lead role in the critically-acclaimed 'Sister Act'. She was also runner-up in the regional final of this year's Rotary Young Singer of the Year competition, covering from Penzance up to Basingstoke and Gloucester. When she returns from Korea, Amélie is hoping to go to Drama School.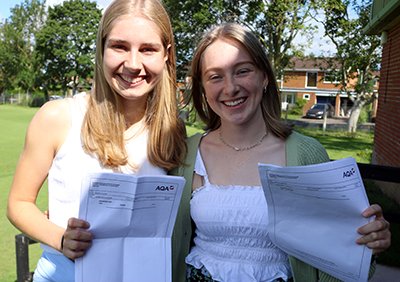 Two of our Heads of House – Jo Keogan (Ray) and Emma Forknall (Woolmer) – were delighted with their A Level results. Jo is going to study Biology at York while Emma will be taking Primary Education at Winchester. Both have been full involved in student life at Queen's, enjoying sport, music, dance and outdoor pursuits and said they had thoroughly enjoyed their time here.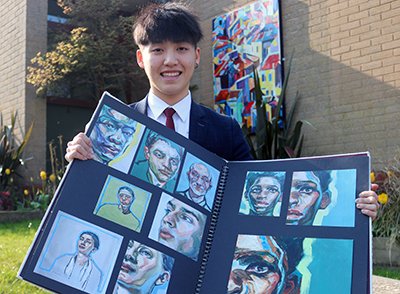 Vince Chin has been accepted to study Art Foundation at the prestigious Central Saint Martins in London. Vince – a boarder in Channon who has been with us since Year 9 – said he was delighted to be accepted as he was hoping to pursue a career as an artist. "Art is my passion," he added, also paying tribute to the staff in our Art Department. "They are really supportive and always push me to achieve my best." Miss Rebecca Cade, Head of Art, said: "We are incredibly proud of Vince. He is a brilliant artist and we are delighted he has achieved such wonderful success."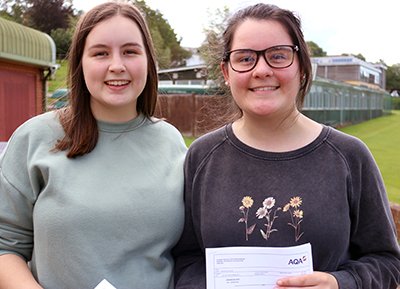 There was a double celebration for the Bartlett family as twins Caitlin and Eleanor gained their university places. Caitlin will be studying Business and Events at Chester while Eleanor will take Adult Nursing at Southampton. The girls are from a Forces family and said they had enjoyed their time at Queen's. Eleanor added: "It's been a challenge but it's all come together thanks to the help we've had from everyone here."