Flipping marvellous return!
A world of batter-related fun has been explored as pupils returned to Food and Nutrition at Queen's on the final days before Lent. On Monday it was traditional French Crêpes made in our cookery Co-Curricular workshop 'Food From Around the World' with Mrs McGreal . Shrove Tuesday saw younger pupils making both fluffy fruity American blueberry pancakes and delicious lemon drizzled British pancakes in our cookery Co-Curricular workshop 'Fun Kitchen Food Science' with Mr Mann. Pupils were performing a fun food sensory analysis investigation into the scientific effects of combining edible acids and alkalis and the consequent production of CO2 to make pancakes rise. On the same Pancake Day the older pupils at Queen's made soft savoury French brunchable Breton-style stuffed buckwheat galette crêpes in our cookery Co-Curricular workshop 'Cooking for University' with Mrs Barker. Galettes are savoury pancakes made from buckwheat flour, which also means they are gluten-free, and are soft, yet robust enough for all sorts of fillings, with our Year 13 filling them egg and ham making them a hearty option for breakfast or brunch. Then to end the week of international pancake recipes for pupils it has been the turn of Ukraine with another savoury pancake this time made with potatoes in our Saturday cookery Co-Curricular club with Mr. Mann and Prep.
Inspired to flip your own pancakes? Here are two of Mr Mann's pancake recipes for you to try.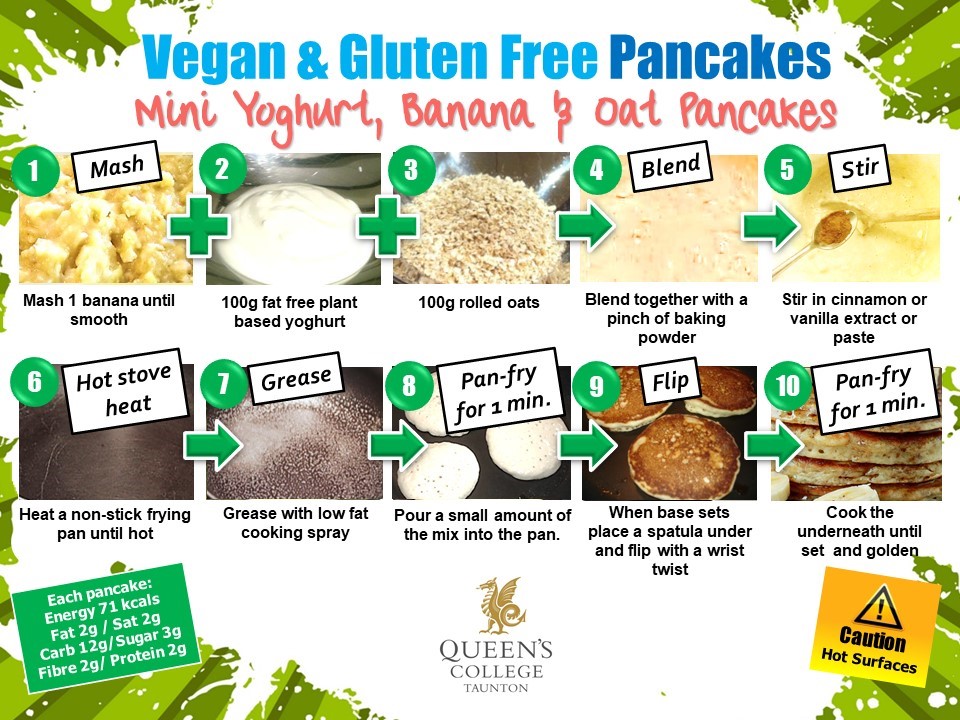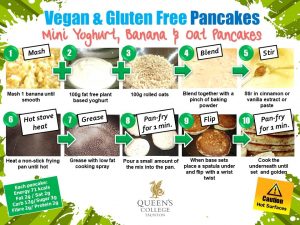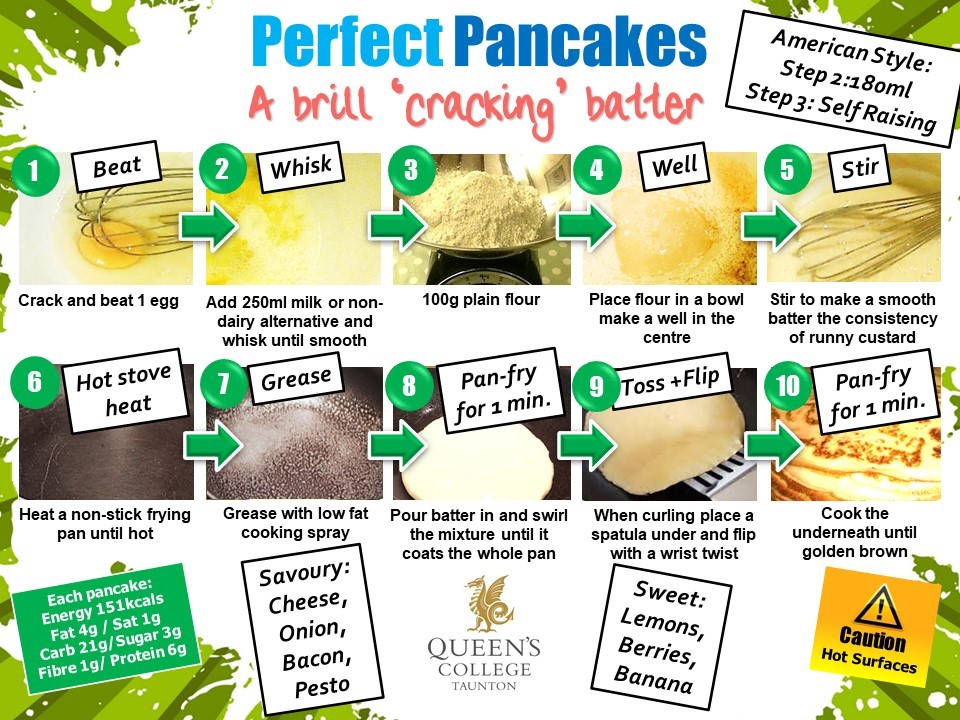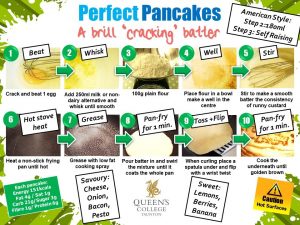 Cook for Ukraine
As Ukrainians continue to show determination and resilience one of our older after school cookery Co-Curricular clubs wanted to show their solidarity and support making delicious enriched PAMPUSHKY ПАМПУШКИ traditional Ukrainian Garlic Breads. They are fluffy, fragrant, soft Ukrainian garlic yeast bread rolls with a gold crust. Then this weekend it will be the turn of more Ukrainian foods cooked at Queen's including DERUNY, the traditional Ukrainian Potato Pancakes. Please watch out for more Ukrainian and Eastern European inspired dishes coming up. Mr Mann, Head of Food and Nutrition said, "We know how a meal cooked with love can unite people and it's wonderful to see how the pupils have acknowledged this".
(Unicef UK 'Cook for Ukraine' www.justgiving.com/fundraising/cookforukraine)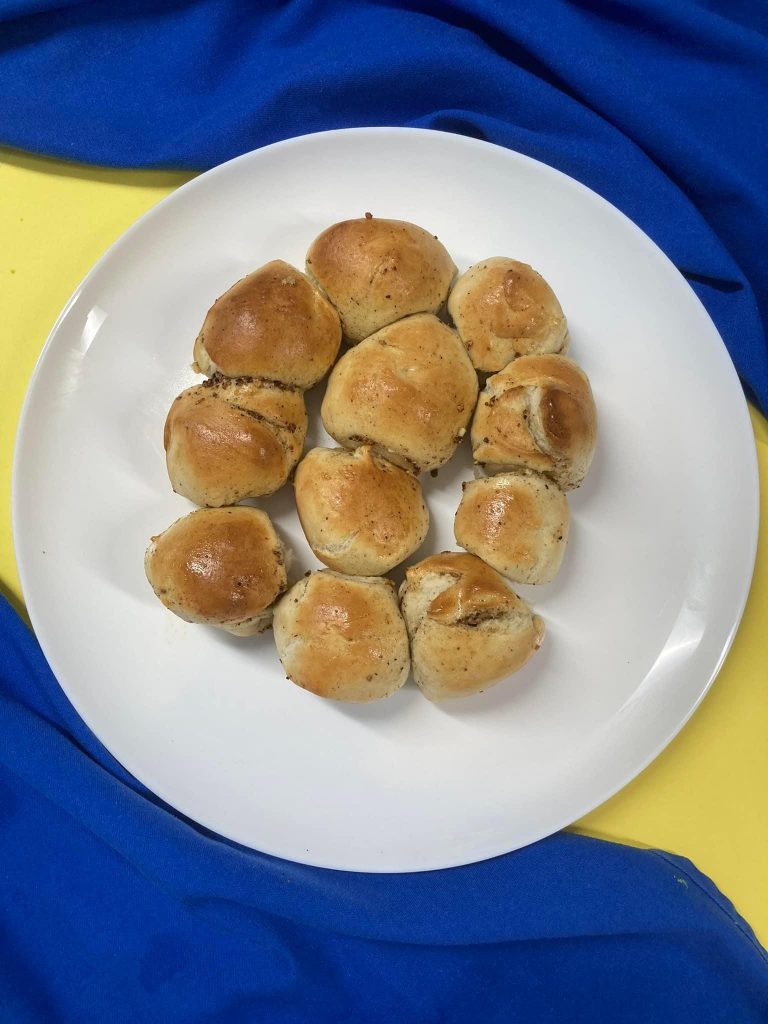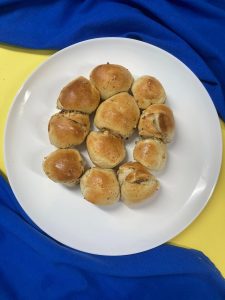 Nourishment for a healthy brain!
With mock exams fast approaching at Queens College it was time for a BRAIN FOOD Workshop. Pupils in Year 11 learnt about what to eat and drink to improve brain power by Mr Mann Head of Food and Nutrition. It was an afternoon about superstar fatty acids, mighty micronutrients, choline concentration and crucial carbohydrates and eating superfoods like fresh blueberries and strawberries that pack a powerful nutritional punch as well as tasting great. Mr Mann, Head of Food and Nutrition, told everyone that, "research shows that certain foods may be especially important for brain health and promoting mental performance. Lots of different nutrients play specific roles in your brain's development and supporting cognitive function. When it comes to preparing for exams, exercise, aim for 8 hours sleep a night, aim for 8 glasses of water a day, and try to keep your diet varied and balanced. My top tips are to choose a wide range of darker fruits and vegetables, oily fish, eggs, beans, seeds, dairy foods and lots of wholegrains."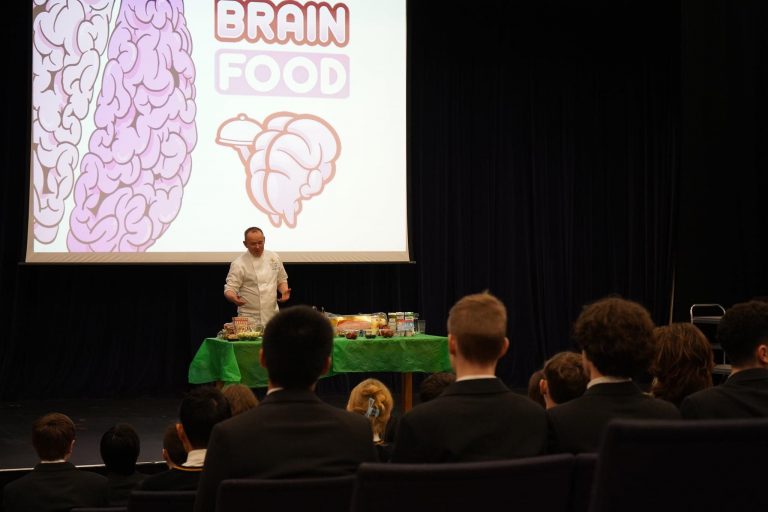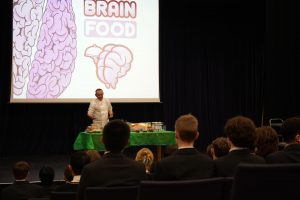 QC Festival of Arts… Culinary Arts Update
Using artistic creativity and food preparation skills we have been stunned by the skills and artistry of pupils who have been bringing in their many dishes styled to the Queen's College Festival of Arts theme for 2022 of METAMORPHOSIS and particularly in Food and Nutrition the focus on 'The Natural World'. Judging will begin very shortly but in the meantime all in Food and Nutrition wanted to recognise a piece of culinary artwork from Harriet Newcombe in Year 7. She decided to bake something for the school during the holidays that went above and beyond our judging brief of the transformation of a humble chocolate Teacake but nevertheless it was felt deserved a celebration for her dedicated achievement.