Prep
Cook for Ukraine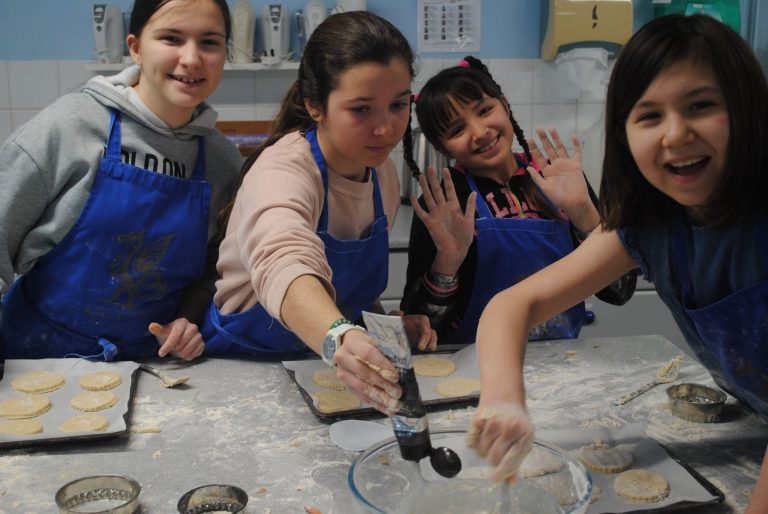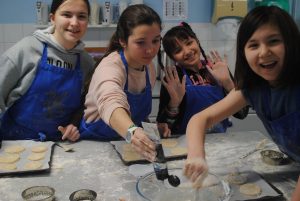 At Queen's we have continued to celebrate Ukraine, its people and its foods through cooking. Here the Year 5's and 6's made more traditional Ukrainian dishes with Mr Mann, Head of Food and Nutrition, which included delicious Ukrainian Deruny Potato Pancakes and sweet Ukrainian Sochniki Cheese Cookies.
The recipes for these classic dishes are here for everyone to share, 'Cook for Ukraine' and celebrate Ukrainian food.
"We don't want people to lose sight of the human beings behind what is happening in Ukraine," said Mr Mann, "and what is more human than people getting together and sharing food?"
To support the Unicef 'Cook for Ukraine' campaign please visit www.justgiving.com/fundraising/cookforukraine
Here are the recipes pupils made that you can try at home.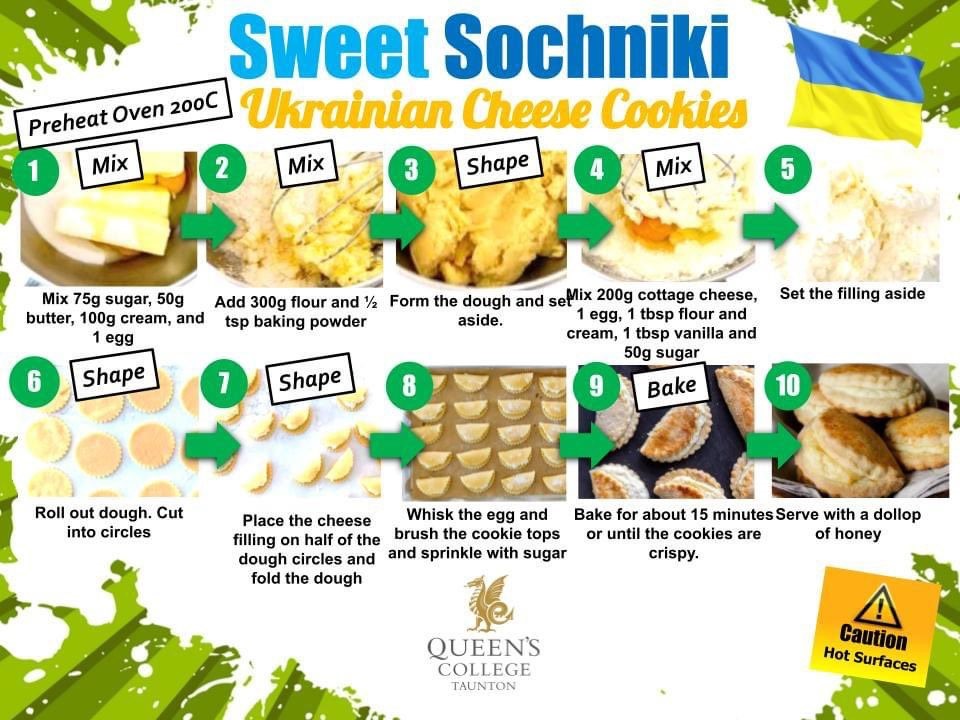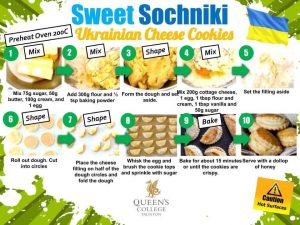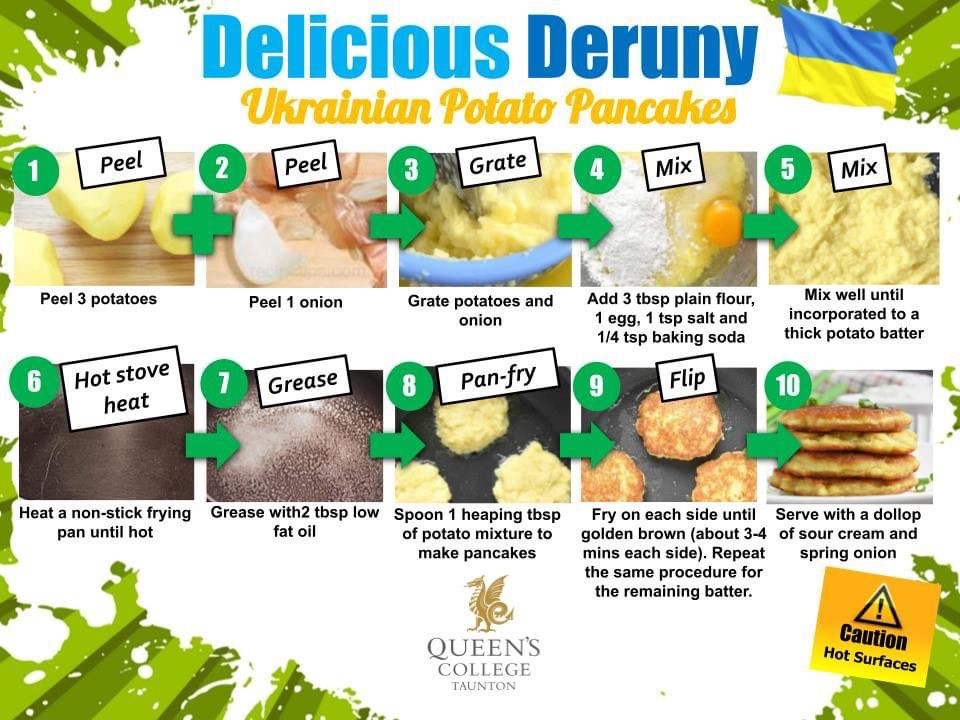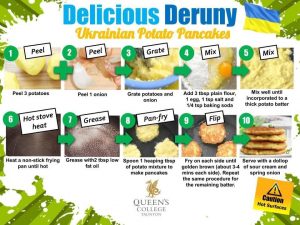 Fun Experimentation for Young Food Scientists
Prep and Pre-Prep had an explosive time with Head of Food and Nutrition Mr Mann investigating how air is used in different types of cooking and food preparation. There were fizzy fountains, raising agent rockets, sultana submarines, egg challenges, microwave meringues, yeast balloon battles, and erupting acids but the highlight had to be sugar blast explosions!
The children evaluated the visual differences between burning one tablespoon of sugar and five tablespoons (five is the maximum recommended amount a child should consume in a day). The activity gave the children key insights into the amount of energy needed to burn just one tablespoon of sugar, let alone five and how the consumption of excessive sugar affects the human body.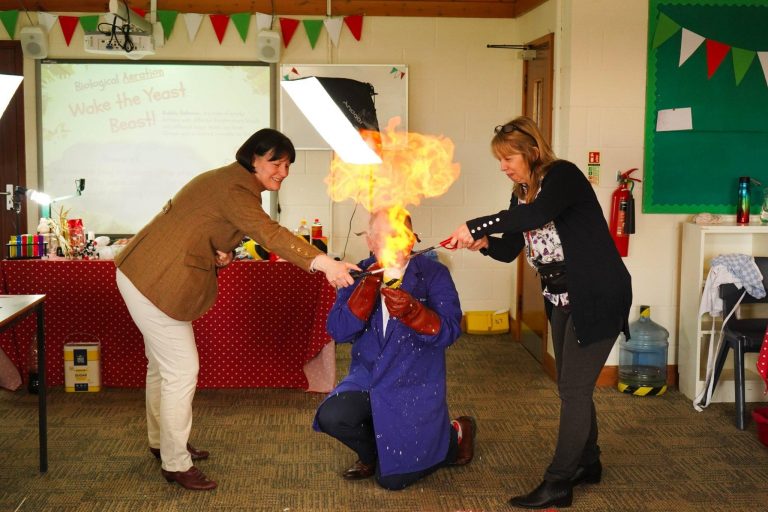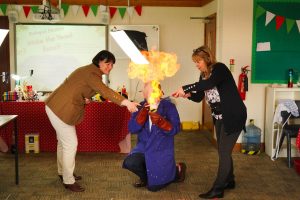 Senior
Assessment success in GCSE Food and Preparation
We wanted to congratulate all those Year 11 pupils who, last week, spent a number of days completing their GCSE Food and Preparation practical assessments this week. Mr Mann said he was "immensely proud of all their hard work and dedication in producing some extraordinary high-skilled dishes" in their assessments that count towards 50% of their actual GCSE's. He went on to say "huge thanks also to all the parents for their support in getting to this point". We would love to share the photos of the amazing dishes that each student produced but due to exam regulations, unfortunately we are unable to do so until the Autumn.
Celebrating St Patrick's Day at Queen's
St. Patrick's Day celebrations are in full swing in Food and Nutrition. Year 7's have been savouring a slice of Ireland today making St. Patrick's Day Irish Soda Bread and Irish Potato Pancakes known as 'Boxty'.
St Patrick's Day is a cultural and religious festival in honour of St Patrick, a 5th-century Romano-British Christian missionary, a bishop in Ireland. and the patron saint of Ireland. Also known as the Feast of Saint Patrick, or in Irish, Lá Fhéile Pádraig, this day Christian Feast Day sees a celebration of the heritage and culture of the Irish.
Mr Mann, Head of Food and Nutrition said, "there's plenty to love about St. Patrick's Day, but few more enjoyable than a delicious slice of soda bread or tucking into a 'Boxty'. Mrs Barker and Mrs Fuller need a 'Pat' on the back for getting pupils excited to make these magical tasty treats from the Emerald Isle. Happy St. Patrick's Day!",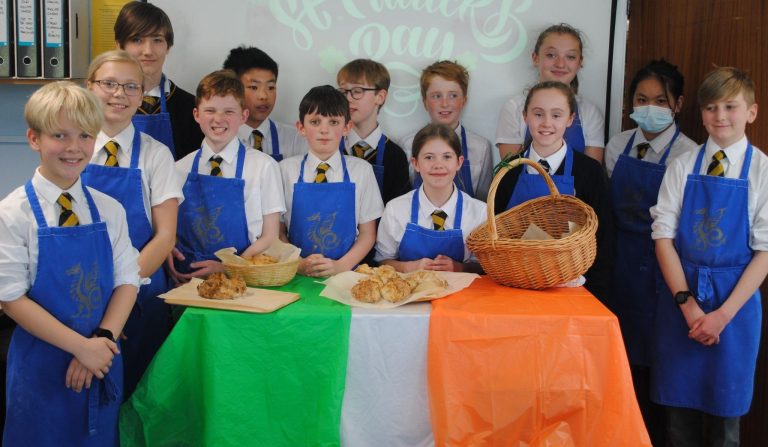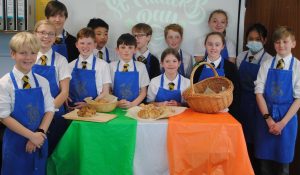 Sixth Form
Gastronomic Relief from Sixth Formers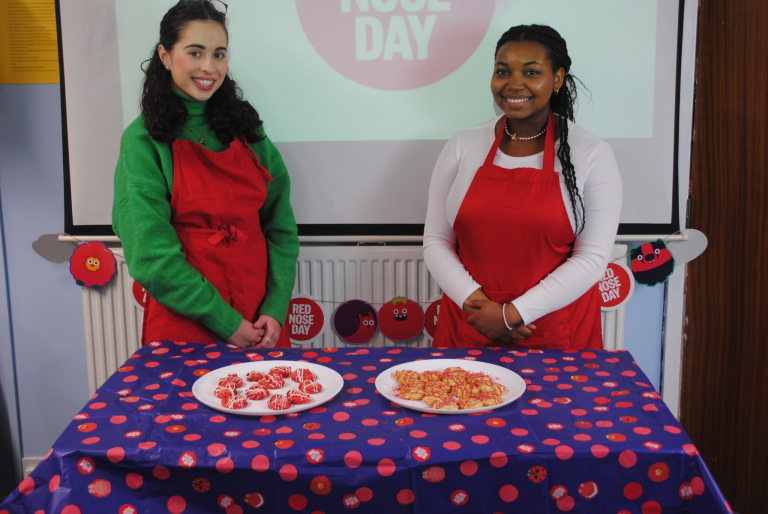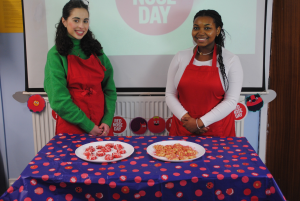 Comic Relief's fundraiser has raised £1.4billion over 35 years for people living in poverty and this week Queen's will help raise some cash with a classic bake sale.
Red Nose Day – also known as Comic Relief – takes place this Friday, March 18, 2022. While Red Nose Day always supports a variety of charitable causes, this year it will also benefit refugees fleeing Ukraine.
Mr Mann's sixth form classes have been baking up tasty treats in readiness for our Comic Relief fundraising on Friday. Mr Mann said, "the fantastic work Comic Relief does to support children and other young people in the UK and worldwide people is amazing and everyone's donations can make a huge difference. So roll your sleeves up and get baking!"
If you want to do your own fundraising Mr Mann has shared a few of his recipes to get you started.