Christmas Pupil Masterclass
Pupils joined Mr Mann, Head of the Faculty of Art, Design, and Food, at the weekend for a culinary Christmas masterclass making their own beautiful golden, rich, hot Christmas mince pies. The pupils prepared this festive favourite from scratch and even had a go at making a tasty selection of homemade sweet and spicy fresh fruit fillings at Queen's College last Saturday.
Some fun facts for pupils were that the concept of these spiced fruit treats in England actually came from the middle east in the 13th century and also the key spices of nutmeg, cinnamon and cloves, symbolise the three gifts given to Jesus by the three wise men.
Mr Mann said, "Christmas mince pies are a traditional part of Christmas fayre in this country and chances are they will feature on many a table at some point this festive season. One ingredient that is found in all pre-made jars of mincemeat on British supermarket shelves but isn't in ours is suet. We replace the suet fat with mashed ripe bananas and that does reduce the shelf life to 3 – 4 days, but these healthier tasty, warm, Christmas spiced fruit treats never last that long".
All we want for Christmas is Game!
It might be traditionally a partridge on a pear tree at Christmas, at Queen's College, we are celebrating all things game this festive season with pupils putting pheasants on our Christmas trees as we promote our nomination for the forthcoming national Eat Game Awards.
We are absolutely delighted and honoured that the hard work of all our pupils and staff at Queen's College has been recognised by making it to the finals of the, national 'Eat Game Awards' again this year for the UK's 'Best Game Educator Award 2023'. We now need the support of you, your family and friends over Christmas to vote for us. The 'Best Game Educator Award 2023' showcases all schools, colleges, further education establishments, organisations and individuals in the UK educating about game. To place your vote and help celebrate the achievements of all our pupils and staff at Queen's College please go to https://eatgame.co.uk/eat-game-awards/voting/
Mr Mann, Head of the Faculty of Art, Design, and Food, said, "we are so very proud of our pupils and staff and their teaching and learning about Game. It is such a privilege for our pupils to be nominated for this prestigious award and we now ask for your help and support over the festive period by voting for Queen's College this Christmas."
Please either use the link above or go to the 'Eat Game Awards' website click on the 'Vote Here' select the 'Best Game Educator' category enter your details at the bottom selecting 'Queen's College'. Many thanks.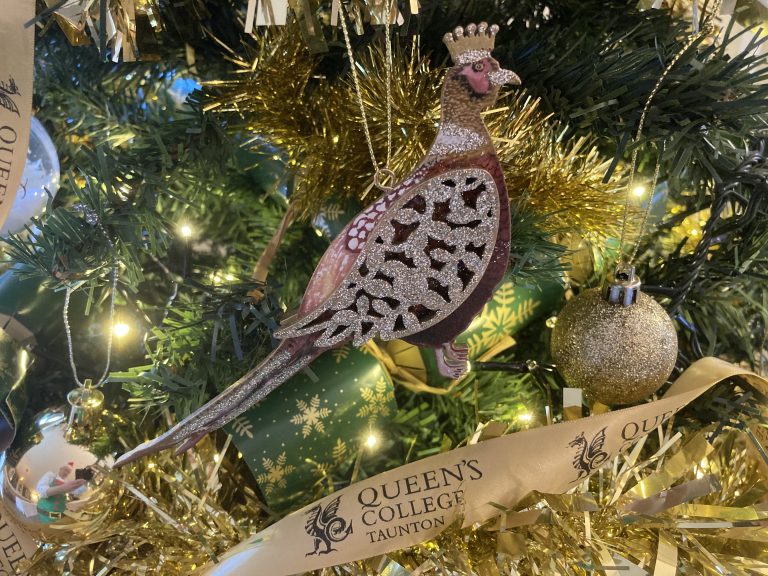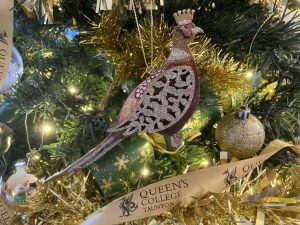 Bringing a taste of German Christmas to Taunton
A taste of German Christmas came to GCSE Food Preparation and Nutrition lessons this week at Queen's College with the help of some of our German pupils. Mouth-watering traditional German Christmas fruit cakes were prepared as pupils revisited this terms learning of Food Science theory of Aeration, Biological Raising Agents, Gluten Development, Dextrinisiation, Caramelisation and Enzymic Browning and Non-Enzymic Browning. Pupils were also able to demonstrate their high-skilled food preparation abilities creating the icing sugar-dusted shaped and flavoured enriched Christmas breads filled with fruit and stuffed with marzipan.
Pupils told us how this classic German holiday bread of Christmas stollen is also known in Germany as 'Dresdner Christstollen' and dates back to the 13th Century Germany when it was made during advent in the lead-up to Christmas. We also learnt interesting some cultural food facts such as in the early days it was against the law for stollen to include butter as an ingredient until the Pope pardoned the bake and 'Christollen' produced in bakeries and pastry shops in and around Dresden are still not allowed to include marzipan as an ingredient otherwise it breaks the rules of the Stollen Association.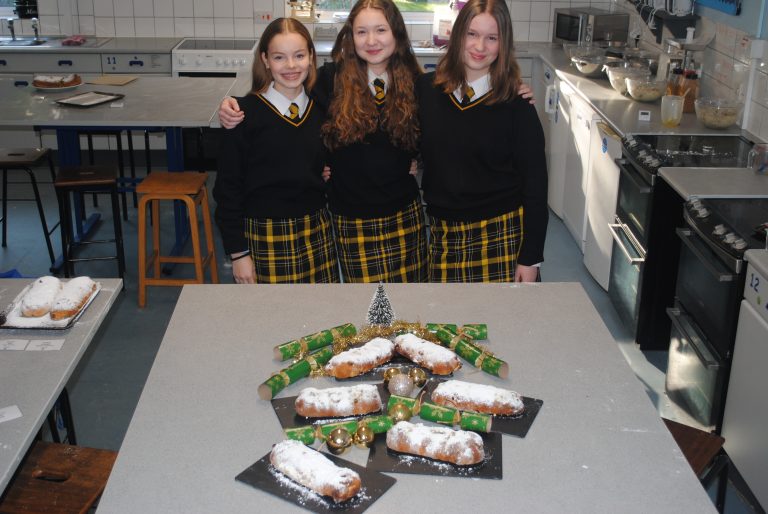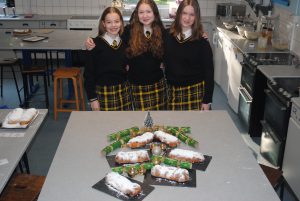 Foodie
families and friends
feast on festive fayre!
A fun, hands-on festive foodie party was had last Friday for families and friends of Queen's in our school kitchen classrooms. A whole array of festive fayre and tasty treats were cooked up as part of the mouth-watering Christmas edition of the popular adult cookery masterclasses held at Queen's College.
On the menu were French Christmas Couronnes Cakes (French for crown), Christmas Italian Panettones Breads and British Mince Pies (with homemade pastry and mincemeat!) It was evening of delicious pastries, with sweet, juicy fruit fillings, and rich and sweet cake-like breads. In the end each person took home a large box tied with a Christmas bows with perfect Panettones, champion Couronnes and marvellous mince pies.
"There's no better way to enjoy festive foods this Christmas than to get stuck in and have fantastic seasonal fun in the kitchen", said Mr Mann, Head of the Faculty of Art, Design, and Food, "and in this fun baking class, they learnt to make a selection of wonderful festive bakes".
The next adult cookery masterclass will have an Easter theme and takes place on Wednesday 29th March from 7pm -11pm. So if you're dotty for dough or simply bonkers for breads, come roll up your sleeves, don your aprons and cook up some tasty Easter treats at our next adult cookery classes.